Entrance Gates
Besides supplying and fitting a range of garden gates, Fencing and Landscape Services supply and erect many designs of wooden and ornamental entrance gates that are both automatic and manual opening.
There is nothing like a beautiful set of entrance gates to really finish the look of your property. To ensure we achieve this, our teams of experienced, friendly professionals will liaise with you through all aspects of design, style and installation.
We understand the benefits that having a pair of classic ornamental wrought iron or beautiful solid wood drive gates can give you as the main entrance to your property. Then, if you add the luxury and convenience that an automated opening and closing system can give you, (e.g. improved security, improved status, more convenience,) then you really do have something that adds real value to your property both aesthetically and financially.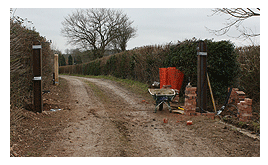 The series of photos on the right show the process of erecting heavy duty automatic gates. The steel supports for the brick pillars are concreted into the ground and then the pillars built around them, before hanging the gates. Gates can be sliding or swinging.
Our range of available Entrance Gates include:
Wrought Iron Style Gates
Hardwood Gates
Steel Framed Wooden Gates
Barriers and Bollards
High Security Gates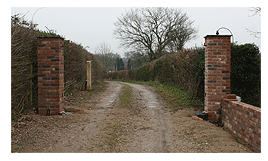 We work closely with Speedwell Automation, a local company based in Hungerford. Please visit www.speedgates.co.uk.
Fencing & Landscape Services use the finest materials when carrying out all their work so you can be assured that the quality workmanship is backed up by quality products that will look good for many years to come.
We cover Newbury, Thatcham, Berkshire, Hampshire, Wiltshire and Oxfordshire.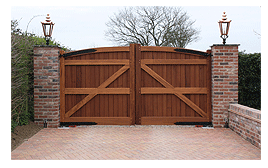 Please contact us on 01635 299942 or 07973 273312 for more information. Alternatively click here to send an email.